Preorder! Palazzo Bias Pant Dress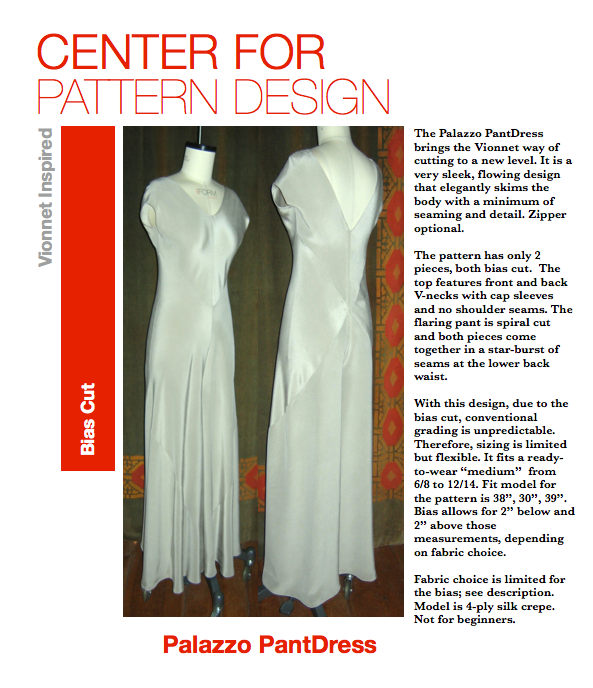 Preorder! Palazzo Bias Pant Dress
Preorder! Shippping on or before end of September.
The Palazzo PantDress brings the Vionnet way of cutting to a new level. It is a very sleek, flowing design that elegantly skims the body with a minimum of seaming and detail and an optional zipper. The pattern has only 2 bias cut pieces. The top features front and back V-necks with cap sleeves and no shoulder seams. The flaring pant is spiral cut and both pieces come together in a star-burst of seams at the lower back waist. With this design, due to the bias cut, conventional grading is unpredictable.
Therefore, sizing is limited but contour flexible. It fits a ready-to-wear "medium" from 6/8 to 12/14. Fit model for the pattern is 38", 30", 39". Bias allows for 1.5 - 2" above and below those measurements, depending on fabric choice. Fabric choice is limited for the bias; see description. Model is 4-ply silk crepe. Not for beginners
Yardage:
54" (135cm) FABRIC W/WO NAP = 3.75 YD
45" (115) FABRIC W/WO NAP = 4.25 YD
FABRIC:
This pattern is also unusual in that one particular fabric is strongly recommended: 4-ply silk crepe. It is sold 45" wide. The pattern can also be successful in lightweight wool crepe (54" wide) or rayon and polyester crepes or acetate crepe back satin but silk crepe is the winner. Fabric selection is extremely important because the drape-ability of the fabric directly affects fit due to the presence of a crotch seam. Silk crepe may be found at Exotic Silks wholesale or Thai Silks retail; check online for all sources. This pattern is for the advanced pattern designer.
A story about this fabric . . . Eartha Kitt was a famous torch singer and wore slinky dresses well into her older years -- everyone wondered how she did it. The secret -- she wore two layers of the same full length bias cut dress made from 4-ply silk crepe, one over the other. The weight and weave of the two layers smoothed her body into a beautiful lean line!